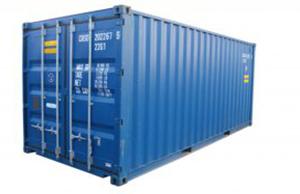 Dry Cargo Containers
Characteristics
These containers are manufactured from either aluminium or steel, they are suitable for most types of cargo / general cargo. Aluminium containers have a slightly larger payload than steel, and steel containers have a slightly larger internal cube.

10FT Shipping container 3.05m Capacity 15.9m³ / 20FT shipping container 6.1m Capacity 33.1m³ / 40FT shipping containers 12.2m Capacity 66.2m³ are the most commonly used shipping containers for sale and available in Standard options. These are wind, water and air tight, ensuring your items are kept in premium conditions. These containers can be used for general cargo and used for anything that is not refrigerated or just use this for storage of documents, tools and machinery or use it as a workshop. These containers are brand new and available in 20FT & 40FT of any other specification as required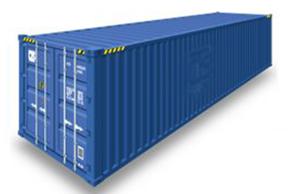 High Cube Containers
Characteristics
With high cube containers, you gain an extra foot in height compared with general-purpose containers. Ideal for light, voluminous cargo or bulky cargo. These extra volume containers come in steel and aluminium.

20FT High Cube container 6.1m Capacity 37.3m³ / 40FT shipping containers 12.2m Capacity 76.2m³ have an additional 30cm of vertical space, providing larger capacity. With an ample 37.3m³ of storage space available. These containers can be used for general cargo and used for anything that is not refrigerated or just used for storage of documents, tools and machinery or use it as a workshop.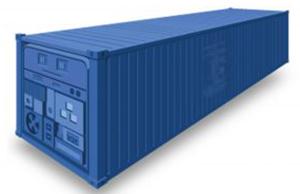 Refrigerated Containers
Characteristics
Recommended for delicate cargo. Bottom-air delivery system ensures refrigerated cargo reaches its destination in optimum condition

20FT refrigerated container 6.1m Capacity 28.4m³/ 40FT refrigerated containers 12.2m Capacity 56.8m³.The container is to be designed and manufactured for the carriage of refrigerated (frozen, chilled) foodstuffs and general cargo by land (on road or rail) and by sea (above or below deck) throughout the world and will range from -40C (-40F Deg) to +80C (176F Deg) without effect on the strength of basic structure.

A mechanical refrigeration unit of a "one piece picture frame type" will be fitted to the front end frame. The container is designed with a refrigeration unit to maintain the inside space temperature at -20°C in ambient temperature up to 38°C. These containers are brand new and available in 20FT & 40FT of any other specification as required.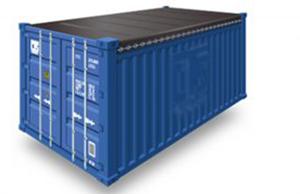 Open Top Containers

Characteristics
Allowing cargo to be loaded from the top, open top containers are particularly suitable for bulky cargo such as machinery. They are fitted with a PVC tarpaulin cover and attachable bows with cable sealing devices. The container doors can be removed to make the stuffing of cargo more convenient. Manufactured from steel.

20FT shipping container 6.1m Capacity 32m³ / 40FT shipping containers 12.2m Capacity 64m³ open top is a special purpose container used primarily for the shipment of over-height or large bulk item cargo (such as machinery) that is unable to be loaded through normal container doors.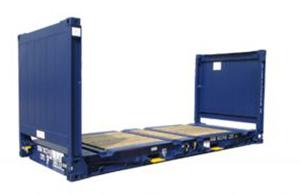 Flat Rock Containers

Characteristics
Flat racks are especially suited to heavy loads or cargo that needs loading from the top or sides, such as pipes and machinery. They are collapsible and non-collapsible containers with or without walls. Manufactured from steel.

20FT shipping container 6.1m / 40FT shipping containers 12.2m are a special container designed to provide maximum flexibility for cargo loading, this model is primarily used for break-bulk, over-width or over-height cargo on container ships. It comes in a variety of makes and models.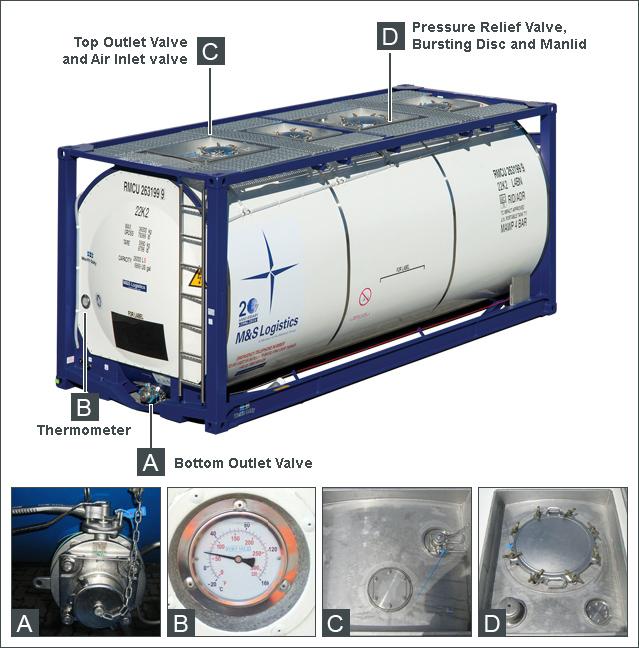 ISO Containers

Characteristics
ISO Tank Containers have a carrying capacity of over 24,000 litres, which is a significant improvement over traditional bulk liquid transport of only 15,000 litres. ISO Tank Containers can be easily transferred across rail, road and shipping and as such the cost of both shipping and handling is significantly reduced.

ISO Tank Containers are built to last and have an estimated useful life of 15-20 years. This means that they can be reused numerous times and reduces costly environmental packaging waste such as drums and plastic containers which are not reusable.

All our containers are brand new and we can offer large volume discounts so please contact us today for your container needs and save $$ on your next purchase.